A professional gazebo that can be quickly assembled, folded and transported
The Openspace gazebos are the most robust and professional solution for every occasion requiring rapid, sturdy coverage which also guarantee a pleasant aesthetical impact (catering, banquets, cocktails and weddings).
It takes one person just one minute to erect an Openspace Gazebo, with no need for tools except pegging equipment.
Its modular features allow rapid coverage of even large areas, and the lightweight structure, telescopic adjustment and erection speed make it a state-of-the-art solution in terms of flexibility, and the ideal choice even in more extreme working conditions.
The Openspace Gazebo are made from top quality materials which have been specifically selected for their hardwearing features; they will last for years and come with a full range of accessories.
They can be fitted with external panels which are either closed or have windows, extra edging , glass-holder bar for drinks, water drainage raceways, ballast plates and many more. All products can be customized with customer logos or writing.
All Openspace gazebos come with their own carry-bag, pegs and guy-lines to guarantee secure anchorage to the ground.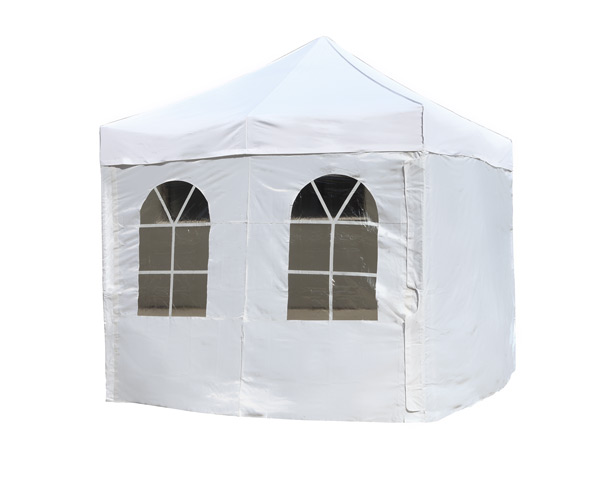 STRONG
Hard wearing dual-resin and fine-weave silicon coated polyester canvas roof panel.
The bearing structure is made from anodized aluminium tubes mm. 40X40X2.2 with radiated edges and telescopic legs in galvanised and painted FE360, the cross bars are made from anodized aluminium mm. 30X15X2.2 with radiated edges. The joints are made from electro-welded, galvanised FE360 painted with epoxy-powders and have internal nylon runners. The screws are made from 8.8 galvanized steel and fastened with self-locking nuts.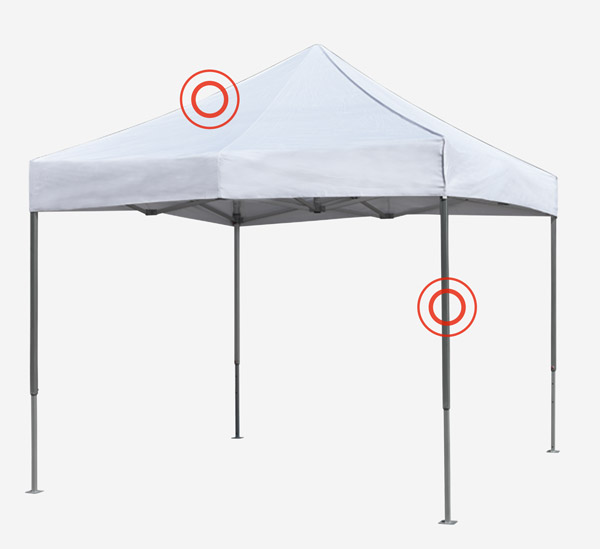 Hard wearing dual-resin and fine-weave silicon coated polyester canvas roof panel; this material is water-proof, fire-proof and filters UV rays
The gazebo for every need: different sizes and colors, modular, customization with logos and writings
The Openspace folding gazebo is available in different colors. The possibilities to adapt it to taste and specific needs are truly unlimited: the cover and walls can be customized by printing logos, images or graphics.
The wide range of sizes and modularity make them extremely suitable for every need, allowing the coverage of large areas in an efficient and aesthetically pleasing way.
Choose the right professional folding gazebo for you!